After watching Project Runway one night, I decided that I wanted to take a stab at the crib skirt--how hard could it be really? (Plus, saving money is cool too!)
Monday, I ventured off to Joann's and I found this pattern-- it has clean lines, but still a little interest with the band and box pleats. Can't be too hard right? I ended up getting it on sale which was a bonus-- but then the lady had to rub it in my face and say that it was on sale this past weekend for $1.99-- grrrrr, that could have been amazing- but at least I did get some discount!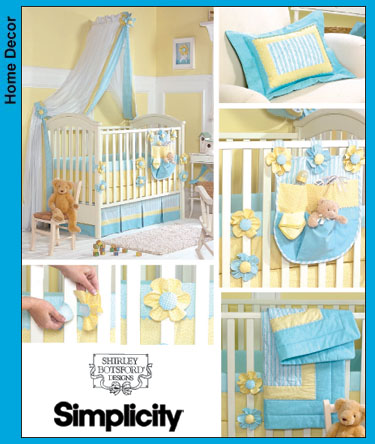 Then it came down to fabrics....everything worked off of the crib bumper fabric. I wanted something that worked with the bumper, but stayed a little quieter. I contemplated doing three shades of cream, blue, and brown. But I ended up deciding on cream top, blue middle, and cream bottom. It called for rick rack detailing- which I chose to add a hint of the brown.
So then I washed and ironed the fabric before pinning the pattern. Of course, I immediately got hung up on the directions-- what the heck is a crosswise fold? After realizing that it was not a huge concern because of it being a solid fabric and that I just had to make sure that the grains matched- I was off to the races!
I began with sewing each side's top and middle pieces together.
Then I added the rick-rack detail. (I used a paint sample to keep the rick rack level.)
Followed by the lower band.
Then I returned the hem to the length that I needed and voila- it looks like a solid panel!
Next came the pleating.
Then the base (what goes under the mattress) and all the sides went together! I gave it a good hard-starch ironing and ta.da!! The crib skirt! My mom is making the bumper and I can't wait to see it all together!